In the world of marketing, there is always room for improvement. Tracking and measuring your marketing practices will give you a clear picture of what you should and should not continue to do in the future. But without data, you have no idea where to start. Here are a few tools that will enable you to collect and analyze your marketing results.
Google Analytics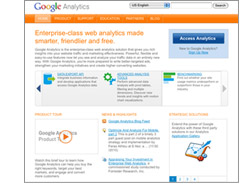 One of the first tools you can leverage is Google Analytics. You'll be able to track everything from unique visitors to time-on-site. Plus, you'll be able to tell which referral sites (including your own landing pages) are getting the most results. This data will help you analyze campaign strategy and budget requirements.
Email Tracking
Another area in which you'll want to track data is email marketing. How many people open your emails? Which subject lines work the best? Which emails convert to sales? This should all be tracked with an email program (like Constant Contact). As you track and tweak your email practices, you'll see your conversion skyrocket.
By Infusion Soft